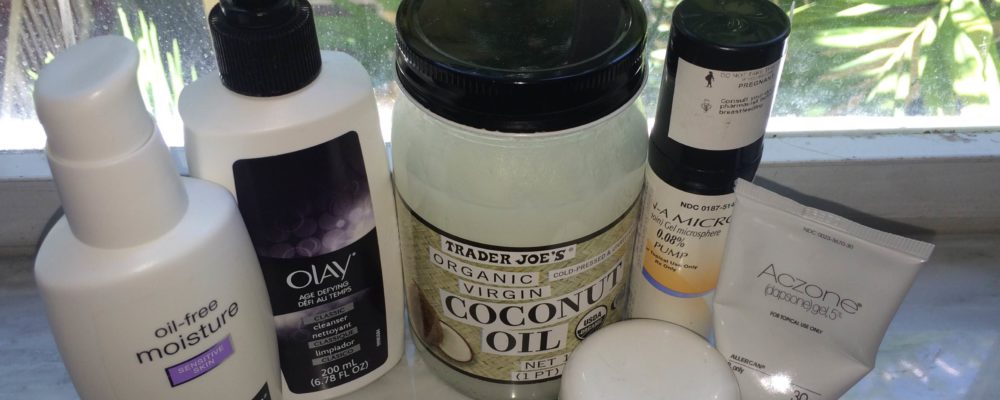 Unlike most people, I had great skin throughout my teen years.
It wasn't until I turned 18 that I started experiencing what I now know is called hormonal acne.
It's a result of poor stress management and hormonal swings.
Most people who know me never saw how bad it got since when my skin breaks out I tend to avoid social obligations.
My first bout with this health and beauty challenge gave me a taste of social anxiety.
My skin started breaking out around the same time I started freelance modeling, which only compounded my anxiety.
I wasn't able to fully enjoy modeling knowing that my breakouts were sabotaging every shot.

Being that I was (and still am) uninsured, I avoided visiting a dermatologist for many months, determined to treat my skin on my own.
I tried countless drugstore cleansers and treatments, benzoyl peroxide, salicylic acid, facials, Proactiv, and learned a bunch of techniques to avoid irritating acne-prone skin.
In the end, Proactiv proved too harsh and made my skin so dry that it hurt to smile.
Other benzoyl peroxide and salicylic acid products were similarly harsh and an extraction facial made matters worse for my type of acne.
I learned a lot during those hard months. It was humbling.
Eventually I caved and visited my dermatologist, Dr. Zellman in Tamarac, FL.
This derm is amazing and goes out of his way to help me save money.
It was only through adjusting my diet, changing the way I handled my skin, and the following products that I was able to see sustained improvement.
After a few extra-difficult months of an initial breakout, my pores were purged and stayed clearer and more youthful looking than ever.
For the past 2 years or so, I enjoyed 'normal' skin problems.
Slowly, I weaned myself off the prescription medications but fell into a lot of old habits.
I noticed the hormonal acne creeping back up and recently went back on my old regimen, which is why I finally decided to share my experience with this problem.
I have a few friends who struggle with similar stubborn skin problems, and hopefully the information here can be helpful to them and anyone else who has more or less 'given up' on having nice skin.
Genetics play some role, that much is true.
But what you must keep in mind is that acne is always a symptom of some other health problem underneath the surface.
By identifying and addressing these underlying issues while treating your skin from the surface, you too can enjoy healthy clear skin and a better quality of life.
After all I've been through, here are the products I swear by:
Aczone
When I finally visited the dermatologist, my face looked like a warzone.
Frustrated and anxious, I found it impossible not to pick at my blemishes.
If there is one thing you can do for your skin, it is the age-old advice: DO NOT PICK.
You may cause further irritation and swelling, spread bacteria, and become addicted to this form of mild self-harm.
Would you rather people see acne on your face or open wounds?
You can't cover that shit with makeup, trust me I've tried.
I've seen great success breaking this habit by simply keeping my nails trimmed.
Enter Aczone.
My dermatologist prescribed a two-tiered treatment approach.
The first medication, to be used twice a day, had an array of benefits.
This product is the only product on the market with the 5% dapsone gel as it's active ingredient.
It's free of benzoyl peroxide, which was the bane of my existence until I realized it wasn't for me, and it is beneficial both to inflammatory and non-inflammatory acne.
As my dermatologist described it, this stuff would heal existing blemishes faster and prevent inflammation from exacerbating future breakouts and getting out of hand. I freaking love this stuff, you really only need a pea-sized amount.
It's a little drying, but nothing a little moisturizer can't fix.
It provides instant redness reduction and leaves your pores feeling fresh and tingly, not burning.
But Aczone is only the defensive acne fighter.
My dermatologist also swears by using this product in conjunction with a retinoid for the most aggressive and effective acne treatment.
RELATED: VIDEO REVIEW – Emerging Beauty Tech to Enhance Your Skincare in 2017
Retin-A Micro and Atralin
Part two of the two-tiered approach prescribed by my doctor was a retinoid to be used before bed every night.
These products work together to aggressively and quickly clear hormonal acne better than either product on it's own.
But what are retinoids? 
Retinoids are a class of chemical compounds that are forms of vitamin-A or are chemically related to it.
Fun fact: Isotretinoin (which is the generic drug more popularly known as Accutane) is also a vitamin-A derivative, but taken orally and not topically.
Accutane comes with a long list of scary side effects, such as extreme skin sensitivity, joint pain that persists after treatment, depression and other fun stuff that is way worse than acne.
I never took Accutane, my condition was never that severe, and I would recommend anyone thinking of trying Accutane to consider it a last resort– most dermatologists do.
Anyway, topical retinoids use a similar technology with less risk of systemic toxicity.
It's pretty scientific, but basically topical retinoids like Atralin and Retin-A speed up cellular regeneration and increase collagen production.
Clogged pores at the root of acne result in a breeding ground for bacteria and often a blockage that prevents other medications from penetrating.
Topical retinoids thin the top layers of skin, thereby reducing any blockages and allowing your skin's natural purification mechanisms to proceed more easily.
The downside is that drugs like Atralin and Retin-A can be very drying and can make you more susceptible to sunburns.
That's why you only use this stuff at night.
Topical retinoids WILL also make you break out badly in the beginning.
This is the unintuitive nature of any working acne treatment: you must purge your pores and suffer through what is called an initial breakout, sometimes lasting months, before you start to see clear healthy skin coming to the surface.
Even then, you may struggle with fading dark marks for months after, but that's a breeze after dealing with cystic acne.
As we speak, I am going through a mild initial breakout since I restarted my Aczone/retinoid regimen past but this time my dermatologist switched me to Retin-A because it is the best topical retinoid on the market.
They recently started offering discounts for uninsured patients (like myself) and it was actually cheaper than the Atralin this time.
I am breaking out worse than I was before I started… but that was expected.
It is a painful process, but once I start clearing up I can dial back my usage and maintain clear skin more easily.
Other benefits of long-term topical retinoids is less wrinkles, quicker wound healing, softer skin, and a healthy glow.
This is, again, because of the stimulation of collagen production.
I will probably use retinoids for the rest of my life, if only for the age-defying benefits!
Note: I'm not too worried about this myself, but to anyone out there with baby fever, you must NOT use retinoids when pregnant!
RELATED: Retin- A Micro – Worth the Wait? I Took A Picture of My Face Every Week for 4 Months
Coconut Oil
So I first became interested in coconut oil when I was reprogramming my mind to cook and eat healthy.
I learned that coconut oil is highly resistant to oxidation at high heat, which is essentially a process by which toxins are released into food, and the main reason why fried food is not considered part of a healthy diet.
I started cooking my eggs with coconut oil and using it as an alternative to butter as it is also an excellent source of Omega-3 fatty acids.
Omega-3's have anti-inflammatory properties which are great for keeping the body's natural inflammatory response cycle from spiraling out of control.
I take an Omega-3 vitamin supplement (along with a few others) daily for that reason, but a little extra from cooking with coconut oil doesn't hurt!
It was a small jump from cooking with coconut oil to using it as a cosmetic.
When my skin was painfully dry, I'd leave it on overnight to wake up to super soft and less irritated skin.
It's also amazing as a hair mask, but make sure to rinse thoroughly as this stuff can leave you very oily.
RELATED: 3 Supplements to Promote Naturally Beautiful Skin from Within
This is a product I started experimenting with much more recently.
It was my favorite of the sample I received back in February at the Beauty Blogger Brunch hosted by Jami Svay and Spinhouse PR.
Truthfully, I don't use this product daily, but occasionally I'll give my skin a boost of topical Vitamin-C cream in the mornings.
It makes my skin look a little more rejuvenated and offers some natural sun-protection and here in Miami, that's worth mentioning.
What can I say?
I tried countless moisturizers before I finally settled with this one.
I don't know why it was so hard for me to find something so simple, but I would imagine it's just because my skin is so sensitive to chemicals and abrasion.
Ever since I was a little girl, I found chemical sunscreens to be very irritating to my skin. I rarely burned, so I got into the bad habit of just avoiding sunscreens.
Some even say that the chemicals found in sunscreens can cause skin cancer.
But even now, I can't tolerate the Neutrogena SPF 30 Moisturizer daily.
I have to use the Sensitive Skin Moisturizer, which doesn't offer any sun protection, but it does absorb into my thirsty skin well and makes my makeup sit nicely.
I do usually enjoy at least SPF 15 in my foundation, but perhaps because it is mineral-based and made from zinc-oxide and titanium-oxide, I tolerate this kind of sun protection much better.
The Olay Age-Defying Classic Cleanser was more of an accidental discovery but I really like how smooth it leaves my skin.
I was weaning off my prescription medications and experiencing some 'normal' acne, totally manageable, and decided to find a new cream cleanser for daily washing.
This cleanser has some texture and some salicylic acid so you don't want to scrub too hard or leave it on too long, lest you experience some irritation.
As far as daily maintenance goes, this cleanser takes the cake. It improves the texture of my skin after one use and allows for better absorption, so I like to use it after taking off makeup and before moisturizer.
It's important to remember that everybody is different.
What works for me may not work for you, and vice versa. The real point I'd like to make here is that you should never give up on finding a treatment that works for you. Living with moderate-to-severe acne is humiliating, depressing, painful, and saps your confidence.
Living with acne is not living life to it's fullest.
Be brave enough to take an honest look at your life.
How stressed are you really? Are you managing your stress in healthy ways? Try meditation and yoga.
How hygienic are you being? Be sure to wash your face followed by a moisturizer, morning and night. Never sleep in your makeup and never scrub your skin raw.
Are you reacting to something in your diet, such as dairy products, caffeine, or sugar? These are the most common dietary acne triggers and I've experienced reactions to all three.
Are you having a reaction to your soap, laundry detergent, oily hair, or something else external? Having bangs always makes my forehead break out more, and certain acne products can make a bad situation worse (IE Proactiv.)