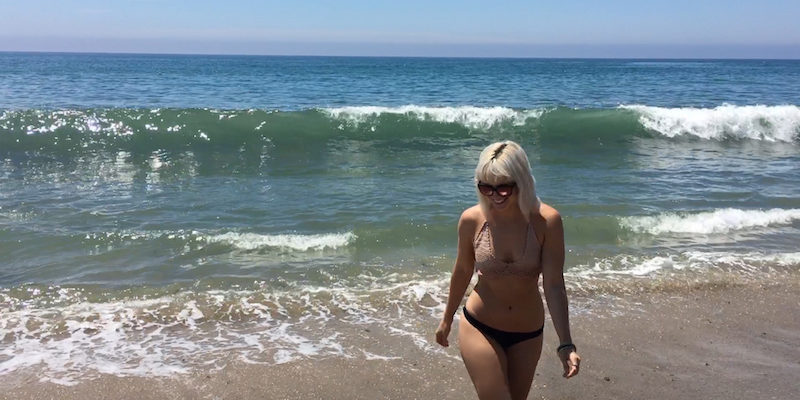 I've only been living in Los Angeles for 2 months and although I still have plenty to see, it's safe to say I've made a major dent in my exploration of the wild west.
Let's see…
I visit Ventura Beach frequently to put in time with the Sparagna clan and I got to explore El Segundo for the opening of the new Aloft hotel near LAX.
We had authentic Korean BBQ in Koreatown for my birthday followed by (what critics would agree was) my best karaoke performance to date.
Very recently, I scavenged the La Brea Tar Pits for fire Pokemon in Pokemon Go (a bona fide Charmander nest FYI.)
I've even sat cliffside at the Top of Beverly Hills, sipping cocktails à la Belvedere, for a very classy affair celebrating the anniversary of Dolce & Gabbana's Light Blue fragrance.
Still, none of these experiences hold a candle to the derma|e Malibu health retreat I had the privilege of participating in last month. It says a lot about derma|e that they wouldn't limit their blogger event to one hour or even just one day.
Instead they spread out the vegan goods, spa treatments, performances, and fun-in-the-sun over two refreshing days of organic zen selfie-queen amazingness at a dreamy Malibu mansion that would have left even Barbie impressed (and that bitch has everything!)
Yes, I did it all and yes, I got pictures of (almost) everything— it was a wonder I found the time to relax at all!
day 1 with derma|e
paddle boarding
I had never tried paddle boarding before, so this was a great way to kick off my first visit to Malibu. The guys from Paddlesurf gave us a quick lesson on land before casting us out kneeling on the board one by one (I ended up going first!)
I was a little nervous about falling in at first, but once I got out on the water it was super chill. It was about 10:30 in the morning and there was still a cool Pacific breeze gently blowing. Within a few minutes I was straddling my board comfortably, feet dangling in the water, waiting for the rest of the girls to join me.
Once we were all out there, some of us decided to get bold. Up to this point, we had been instructed to kneel until we felt comfortable standing. I didn't want to let my first paddle boarding experience pass me by without giving it a shot! With a little encouragement and our instructor close by, I finally went for it and stood up on the paddle board— and I can proudly say I didn't fall even once!
Within a half an hour, I'd had as much sun as I could stand! I had forgotten to apply the derma|e Antioxidant Natural Sunscreen SPF 30 Body Lotion to my shoulders, a mistake I would regret for the remainder of the retreat.
In any case, it was time to head back to the estate and relax on the grounds… there were citrus-infused waters to sip and selfies to take.

rest
I knew I had more exercise to look forward to later that day, so I took full advantage of the time I had allotted for relaxing on the grounds of the gorgeous estate. Not even gonna lie, one of the first things I did was launch Pokemon Go to see what species of Pokemon were spawning in the area. I spotted Chansey and Clefairy on the radar, but regrettably I didn't encounter any.
I had become fast friends with Cantonese vlogger Little Elaine Hau during paddle boarding and she introduced me to some of the other girls she knew. I make a bunch of cameo appearances in the video she put together for the full 2-day event, check it out below (don't forget to add English subtitles) for some awesome footage of the whole derma|e retreat!
yoga
Truth bomb: I LOVE yoga! I suck at it, and I don't do it very often, but I do love it. I'm hoping to develop a regular practice one day… maybe even become an instructor. Though I suffer from bad knees from years of running and a back injury from a car accident, I always feel better during and after any amount of yoga stretching.
And actually, I have to give myself a little credit here, I had been practicing yoga at home fairly regularly for 2 or 3 weeks leading up to this retreat. I still don't have all the poses memorized, but I follow along with yoga videos on Youtube: my favorite in particular is a channel called Boho Beautiful. You can choose 2 or 3 of her short flows and combine them for a unique yoga experience that works for you, like The Perfect Workout followed by After Workout Yoga.
Anyway, the point is I was actually pretty loose when it came time for my derma|e yoga sesh. It's a good thing too, because it was definitely longer than the 30-minute session I was expecting! Led by the entertaining and skillful Shayna Hiller, the girls and I did a full-body restorative yoga sequence under a tent overlooking the mountain side and it was utter bliss. I can remember pressing my hands into the bright pink Prana yoga mat that was provided, surrounded by friends, and feeling such overwhelming gratitude for every experience I was being given.
My cup runneth over.
dinner
There was a handful chefs and caterers in the kitchen working feverishly round-the-clock to prepare a mysterious meal that would punctuate the first day of the retreat.
Somehow, they also found time to churn out gluten-free treats and healthy snacks all day long— Like these UNBELIEVABLE vegan chocolate-dipped oatmeal cookies spiced with lemon zest and ginger.
Although Elaine and I slipped out for an hour to get pizza and a drink (shh! don't tell the vegans) we were eager to get back in time for dinner and the "surprise" performance Jeneration PR had been covertly hinting at.
The Organic Gypsy catering company finally came through at the end of the day with a vegan barbecue at sunset: black bean burgers seasoned to perfection, softened whole-wheat buns, and flavorful sweet potato mash.
Not long after, a trio of hula dancers performed an authentic Hawaiian hula dance against the gorgeous backdrop of a Malibu sunset. They even taught us a few moves, although I think I'll stick to blogging…
day 2 with derma|e

psychic reading
On the second day of the derma|e Zen in the 'Bu retreat, I was scheduled for more mild activities, starting with the "intuitive reader" which I had heard described as like a psychic reading.
Let me start by saying I do believe in the supernatural, I believe that there are intangible things that science still can't explain. I collect crystals passively because I do believe they carry an energy and do some good, even if it's just in my head. I burn incense because it smells good and because I find it calming. That's about the extent of my witching these days. I used to be more involved in the past, but that's a story for another day.
When it came time for my reading, I met with Mary Anne Brown in her reading room and gave her my full attention and intention. She placed in my left hand a white stone and in my right hand a black stone. I was to inhale positivity through the left side of my body and exhale negativity through the right side of my body, in a nutshell.
While consciously breathing this way, I was to form a question or a problem in my mind that I wanted to address during the reading. I didn't share it with her, and I won't share it here now, but I will tell you what happened next.
After some deep breathing, she shuffled her tarot cards with eyes shut and said "There will be two parts to this."
She opened her eyes and drew 3 cards, studying them for a moment. Her interpretation was that I was feeling very guilty about something that had happened long ago and that I needed to forgive myself for it. It was startling. I still don't know what quite to make of that in light of the question I had posed, but I do have a tendency to hold on to guilt for a long time.
For the second part of the reading, she drew 3 new cards and paused. What she said next was "You need to listen to your friends." This was hard to hear. I had just moved across the country and, other than Daniel and his family, I didn't really have any friends. Distance tends to make me feel disconnected and admittedly I was kind of pulling away from some of my older friends even digitally.
I left the reading with more questions than I went in with, but still with a sense of release. I called my friend Tiffany that same night, just to catch up.
lunch
Like the day before, the retreat was catered by chefs that specialize in delicious organic meals. I didn't stay for dinner the second day, but I did get to try the zesty lettuce wraps and flavored kombucha they served for lunch. (And many, many more of those chocolate dipped oatmeal cookies!)
Also had to share this almond-butter raspberry pie creation served up by Isa Bourbon— isn't it beautiful?!
massage
Finally, it was time for my massage. I needed it after the paddle boarding and restorative yoga on the previous day. Marisol was giving massages in the quiet basement (which boasted #basementgoals such as a bar, wine cellar, movie theater, and a gym) of the estate where one could really unwind.
I was sore all over so couldn't choose an area for her to focus on. In the 20 minutes I had with her, she did gentle all over massage left me feeling refreshed, rejuvenated, and a little less nervous about my facial.
facial
Don't get me wrong, I love the derma|e products, that's not why I was nervous. I've just been going through a bit of a rough patch with my skin since restarting my nightly retinoid treatment. I was about 12 weeks into treatment at the time of this event, which is when most retinoid users see results.
RELATED: retin-a micro – worth the wait? I took a picture of my face every week for 4 months
However, I was still enduring breakouts and dry skin. I was really trying to just let the medicine work and I was afraid of throwing to many more products into the mix until my skin had settled down.
Thankfully, the esthetician was familiar with Retin-A and tailored my facial to my needs. "No extractions and no exfoliation!" she insisted. "We'll just focus on hydrating and moisturizing your skin."
Music to my ears. I let her do her thing, she even worked around my eyeliner so I didn't need to reapply it. My skin was so dehydrated from all the sun and makeup, it sucked up the hydrating oil she applied right away.  During the treatment, we talked about alternative acne treatments like probiotics and dietary triggers.
At the end of it all, my skin felt GREAT. And for the rest of the day and into the night, it was softer and more hydrated than it had been in months. That was enough to convince me to keep using the Hydrating Night Crème with Hyaluronic Acid whenever my skin got dry and flaky.
I can't wait to put together a comprehensive review of my favorite derma|e natural skincare products. Elaine is trying to convince me to start vlogging too, and I think my review of the derma|e products would be a great topic for my first Youtube video. What do you think??
UPDATE 2/17/17: skincare routine vlog featuring derma|e
---
Wearing: 
day 2

Blue Aztec Dream Bikini via Miami Bikini Shop
Z&L Europe White Lace-Up Cover-up Dress
Beige High-Waisted Shorts (thrifted)
Nude Block Heel via Amazon
Blue Lennon Sunglasses
---
DISCLOSURE: The #ZenInTheBu event mentioned above was fully sponsored by derma|e. This post also includes free product from Miami Bikini Shop & LIVE! All opinions are my own. Please click here to learn more about sponsored posts.