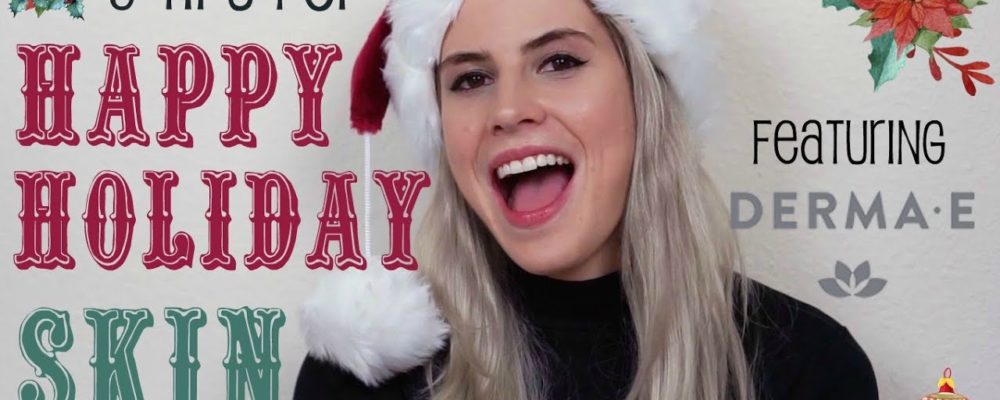 Today I'm excited to bring you a very special look at my holiday skincare routine!
Why, you ask?
Because, along with the fun of the holidays comes a few unique threats to the clear beautiful skin we work all year to maintain.
We often think of our skin problems as 'surface-level' concerns, but the reality is that the body functions as a whole.
No one understands this better than Derma-E, which is why they make an incredible range of skincare products for different skin types, all free of irritants like GMOs, soy, gluten, and parabens.
You can watch the video above or read on for a few common beauty problems that I face during the holidays and the products I like to use to fix them:
Dry Skin in Winter
First off, when the weather changes, your skincare routine should change with it.
Cold, dry winter weather may make sensitive skin irritated and uncomfortable.
If that sounds like you this is a good time to take it easy on the exfoliating scrubs, retinoids, and salicylic acid products, and just focus on moisturizing.
Derma-E's Hydrating Night Cream is a gentle, natural solution for dehydrated winter skin.
I like to glob it on generously before bed so I can wake up to skin as soft as a flower petal!
The Diet and Acne Connection
Some people, even some doctors, still will not acknowledge the link between diet and acne (even I resisted this concept) but the fact remains that you are what you eat.
This doesn't mean you shouldn't enjoy a little indulgence now and again, especially since quality time for a lot of people means gathering and gorging on all their favorite foods.
It just means acknowledging that a little mindful eating goes a long way for the condition of your skin, and you might have to do a little damage control after the family feast
Overeating rich foods heavy with dairy and gluten means inflammation is likely to show up on my face, but I fight back with the Purifying 2-1 Charcoal Mask.
Just dab a thin layer over cystic acne blemishes and clogged pores and rinse away in 10 minutes for an instant reduction in size and redness.
There are also certain vitamins and supplements for acne you can try to offset a poor diet, but ultimately this is not going to be as effective as habitual clean eating and stress management.
How to Beat Holiday Stress Breakouts
Don't let stress get the best of you because this is exactly when your skin needs the most help!
I love the Derma-E Detoxifying Scrub because it exfoliates well and leaves my skin feeling refreshed – just be gentle with it, because scrubbing your face raw isn't going to do you any favors (trust me.)
I follow my scrub with Derma-E's Radiance Toner because it leaves pores clean and tight, but not dry like some of the harsher drugstore products I've tried.
After exfoliating and toning, I ALWAYS finish with a moisturizer to avoid dry patches and ahh –
I feel instantly more relaxed!
Final Thoughts – Your Holiday Skincare Routine & Beyond
Now before we wrap up, I leave you with this:
You don't have to sit and suffer with skin problems during the holidays (or any time of the year) as long as you learn to listen to what your body is trying to tell you and give it what it needs to function at it's best.
Even when my skin is breaking out due to hormones, allergies, or retinoids, I know I can turn to any of these Derma-E products for a skincare routine that won't add fuel to the fire.
If you feel like you've tried everything and your skin is still out of control, it might be worth trying an online dermatologist.
My friends at YoDerm will provide convenient online access to a real dermatologist AND help you fill your prescriptions as cheaply as possible for just $49 if you use this link.
And remember guys, I'm not a doctor and I'm not qualified to give medical advice.
If you think you have a serious medical condition, you should definitely talk to a doctor.
---
DISCLOSURE: This post was sponsored by Derma E and may make use of affiliate links, but all opinions are my own.