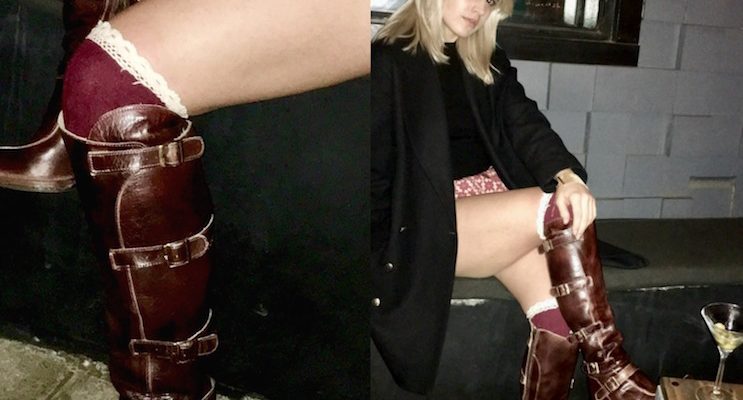 There's something to be said about the transformative power of a great pair of boots.
---
YOU MIGHT ALSO LIKE: 
Finding the Perfect Pair of Gray Suede Boots
Challenge The Status Quo, For You Are a Rare Breed
---
In junior high, I started wearing black leather combat boots to spice up my school uniform.
My teachers tried to write me up for violating the dress code, and sure I got a lot of weird looks from my peers, but the most important thing for me was how they made me feel.
Powerful.
I realized right then and there that fashion was for me, and I would never let anyone tell me what not to wear again.
Fast-forward to forward to here and now: I still have a pair of combat boots in my closet, but I opt for a block heel knee-high boot most days.
These beautiful genuine leather boots are from bed|stu, and I wore them for NewYears Eve with a black onesie from Love Culture, gold bracelets from Unbound and a BB Dakota trench coat from Nasty Gal.
Boots like these give me that same powerful feeling I first experienced at 12 years old. They are defiantly bold, yet classic and versatile.
Made with rich color and buckle details,  bed|stu celebrates natural imperfections by using soft, fragrant leathers that are both chrome and tonic-free.
bed|stu just opened up a store in Santa Barbara so if you're local you just HAVE to go into their new store and try on a pair!!!
You'll see what I mean.
---
What I'm Wearing:
---
DISCLOSURE: I sometimes get free stuff so I can provide an honest review for you all. This post includes free product from bed|stu. All opinions are my own. Please click here to learn more about sponsored posts.