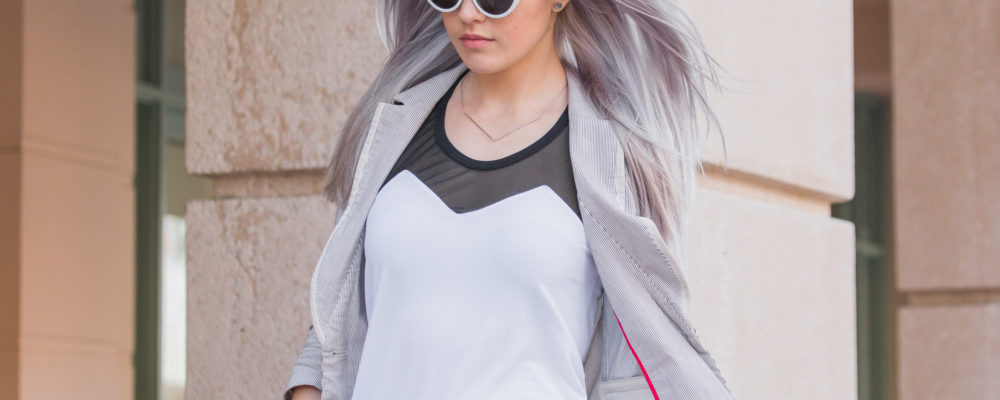 If nothing else, today's look is a testament to my affinity for neutrals, minimalism, and triangles (also the favorite shape of one alt-J.) If a semi-casual striped blazer layered over an athletic tank with mesh paneling isn't enough to make people stop and go "Hmmm," then white sunnies, shorts and stiletto sandals will certainly get them there.
Continue reading below for more details on this look.
The Denim Crossbody in many ways deviates from the Kipling brand we've come to know and love over the years. With a historical focus on bright color and youthfulness, a dark-wash denim and structured shape is an intriguing step outside of their comfort zone. Like my favorite pair of jeans, this versatile handbag goes with everything. Still, Kipling remains true to it's roots by providing a durable, internationally appealing product. I am told this exclusive design is only available at the Kipling at Dadeland Mall, so if you're local it's definitely worth stopping by!
The way the angular neckline of the Color Mist Tank and the Gorjana necklace complement one another is just so satisfying to me. The necklace is actually a rental selected for me via my Rocksbox subscription. And although much of it is hidden under the blazer, this LIVE! top is easily one of my favorite things to wear right now. (Scroll down for discount codes!)
About this blazer: it goes from easy-breezy to boss-bitch in the same amount of time it would take to change into tailored slacks. Indeed, I regret not wearing it more, but I'm still waiting to find the perfect pair of pants to complement the color and fit. (Or maybe a cute dress?) In the meantime, white short-shorts acquired from a friend's clothing swap make it a more playful look.
Speaking of clothing swaps… I probably shouldn't say this as a fashion blogger, but I am averse to spending a lot of money on clothes and shoes. Don't get me wrong, there are times when it makes sense to drop dough on a key piece, a beloved brand, or an outfit for a special event. But generally I revel in finding fun, inexpensive pieces that I can experiment with. Just being honest!
Take the Cat Eye Wayfarer Sunglasses

 for example: they add a cute, vintage accent to any look, and they cost about the same as a Starbucks grande soy decaf cappuccino (plus shipping.) Similarly, my white strappy heels were purchased at a heavy discount, but they are the perfect pumps for outfits on the lighter end of the color spectrum— and I can wear them to death without feeling guilty about it!
What do you think: Do discount retailers have a place in your wardrobe, or  would you rather die than be seen in cheap clothes and shoes? Buying discount clothes online is a dangerous game, but I think sometimes it makes sense. You can always spring for the expensive version later, when you're absolutely sure you love a certain style.
– Photos by GenStreetStyle –
---
Wearing:
---
Disclosure: I sometimes get free stuff so I can then provide an honest review for you all: This post includes free product from LIVE! and products obtained from a free membership with Rocksbox. Please click here for more information on sponsored posts.