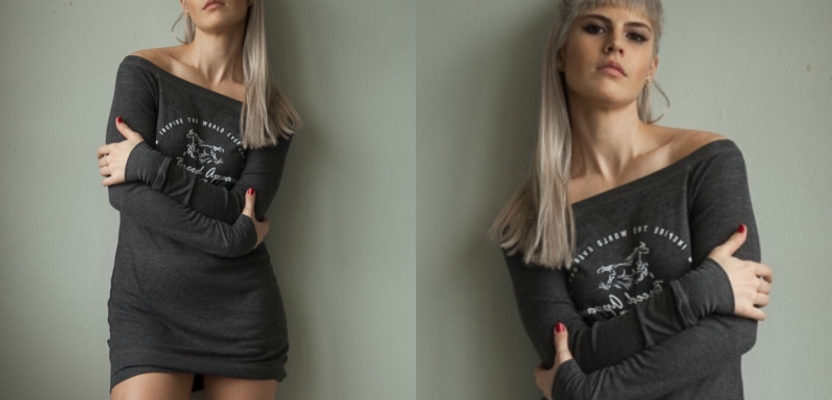 If the hoodie-and-jeans combo is the unofficial techie uniform, the long-sleeved sweater dress is it's cute, feminine counterpart. I wasn't really seeking a long-sleeved sweater dress to add to my wardrobe, but when I stumbled upon the Inspire The World Sweater Dress from Rare Breed Apparel, I knew right away that I had to have it. I was so excited when it arrived, I immediately put it on and curled up in bed with my laptop just as I had envisioned.

The relaxed fit and wide neckline are designed for comfort, but the cut of the dress hugs my figure enough that it also works with a pair block heel sandals as a trendy weekend outfit. When paired with black combat boots, the simple gray sweater dress takes on sort of a cyber goth feel. If I had to choose just one word to describe this dress: versatile.
Michigan-based Rare Breed Apparel specializes in functional loungewear with an inspirational graphic message. What's more, their story is one that easily resonates with creatives and idealists; the movers and shakers of the Millennial cohort. As an entrepreneurial-minded millennial, I eat that shit up in general… these days a brand has to have a story.
With some big changes coming up in my life, I'm more motivated than ever to pursue my goals and achieve my dreams. I won't give out too many details yet, but it involves closing the chapter on my life here in Miami Beach and starting over in a new city; a bigger pond if you will. Change is so necessary, but that doesn't mean it's not going to be hard and stressful. It's not always easy to stay intrinsically motivated, but it's absolutely crucial with the scale of what I'm trying to accomplish in the next few years.
If you're like me and trying to work a little more optimism and inspiration into your life each day, you might find just what you're looking for at RareBreedApparel.com. Tell them I sent you and you can even get 20% off your online order! (Just enter promo code cd20off at checkout to have your 20% discount applied.)
– Photos by Cynthia Ottuso –
---
Wearing : 
---
DISCLOSURE: I sometimes get free stuff so I can provide an honest review for you all: This post includes free product from Rare Breed Apparel. All opinions are my own. Please click here to learn more about sponsored posts.
---