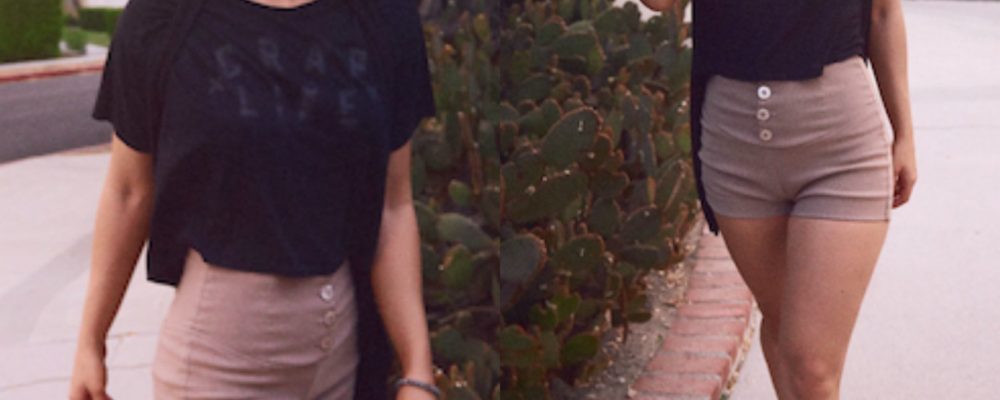 Perhaps one of the greatest challenges for a fashion girl is staying chic & comfortable throughout the changing seasons.
It's my first fall/winter in California and, well, it hasn't been easy. My transitional wardrobe is not suited for protecting me from the cruel winter elements.
I'm exaggerating of course. It doesn't even snow here… but it's way colder here than I'm used to!
Some girls break out an entirely new wardrobe at the first autumn crisp, but I must admit I've never been that organized.  I'm from Miami, mind you, and there's really only one or two months out of the year that you have to bundle up there.
The rest of the time you want to dress in sheer, light fabrics to avoid sweating in the humidity. I don't even own a turtleneck— although I have been eyeing a turtleneck a la Steve Jobs

.
The opposite is true of the weather here in the San Fernando Valley: It's  cold most days and almost unbearably dry now. I've gone to great lengths to keep my face well-moisturized (my body be damned.) More on my struggle with dry skin will be coming soon in another post.
Transitional Fashion Ideas
This post is more about how to build a transitional wardrobe piece by piece.
A little late to the game, but the transitional clothing look shown above is from one of my summer-to-fall outfits. It was still quite warm when I shot this transitional outfit, so all I did was add this slouchy, sleeveless, open-faced cardigan for some fall flair.
As for the shorts, any pair of high-waisted shorts would do, with a loose, boxy, crop top like this one from Terribly Odd.
I would avoid showing too much skin on my upper body since I'm showing a lot of leg with these shorts— but far be it from me to stop another woman from flaunting what she's got.
Another alternative might be a cute kimono-style cardigan, which let's you show off your gams without sacrificing modesty.
To 'winter it up' I might add a scarf and swap out the nude block heel sandals for leather boots and over-the-knee socks (like these with a cute ruffle!

)
This is particularly exciting for me, because I've never really figured out how to wear a scarf. I've long been a fan of boots, but now I get to wear them for months on end without getting the weird looks from Floridians.
I still might be cold during the winter without also adding a warm jacket, blazer, or coat of some kind as well. I generally love the top-heavy silhouette that's created when wearing any variation of boots, shorts/skirt, and a heavy coat/jacket.
So yeah, I'm really excited to experiment with this new silhouette whether it be in the name of transitional fashion or in full-fledged winter garb.
Although my personal style is being challenged by the cold seasons that I must now figure out how to accommodate, this won't be the end of the tropigoth persona I favor.
Instead, I'm looking forward to adding a new layered, cozy, and blazer-clad dimension to my ever-evolving sense of style. The beauty of transitional fashion is it will allow me to now recycle my summer pieces into true fall and winter outfits, and vice-versa.
I'm up for the challenge.
Do your worst LA. 🙂
– Photos by Sweet California Light–
---
Wearing:
Sleeveless Vest (thrifted) – similar Sleeveless Vest
Khaki High-Waisted Shorts (thrifted) – similar Shorts
Nude Block Heel Sandal


---

DISCLOSURE: I sometimes get free stuff so I can provide an honest review for you all. This post includes free product from Terribly Odd. All opinions are my own. Please click here to learn more about sponsored posts.