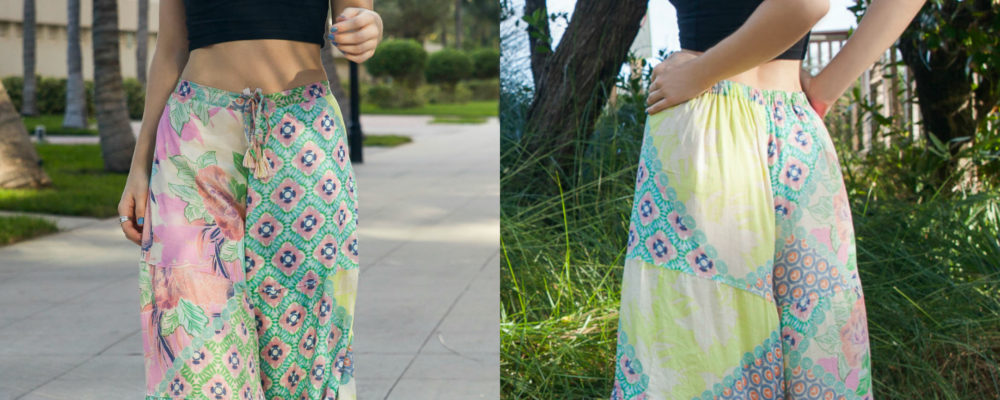 If I'm being perfectly honest, I only invoke the beanie on particularly bad hair days. This occasion was no exception: with overgrown roots and an unreasonably strong ocean breeze, I donned the only beanie I've ever owned and tried to make it work.
I don't know whether or not I succeeded, but I found the clash of harsh black and pastel printed hippie pants wildly entertaining, if not stylish. You gotta be able to laugh at yourself. For the record, I acquired these pants totally by happenstance and wore them for the first time for this shoot.
I suppose it's safe to say I've made a reputation for myself as the fashion gal around the office; when a start-up at the Miami Entrepreneurship Center left behind these cool hippie pants, they found their way to me! Something I learned since I started blogging is that following your passion can allow you to manifest more of the things you love.
I like the flowy fabric and the skirt-like silhouette created by wide-cut pant legs, but I'll be damned if this color palette doesn't challenge me. Prepare for these pants make another appearance as I find a way to make them chic… maybe. I don't know, are these pants a lost cause or is there hope for them yet? Let me know in the comments section whether or not I should take them out of rotation— I can't decide!
Wearing: Z&L Party Pants | American Apparel Cotton Spandex Sleeveless Crop Top | Halogen Slouchy Cashmere Beanie
Photos by Cynthia Ottuso
SHOP MY TROPIGOTH LOOK