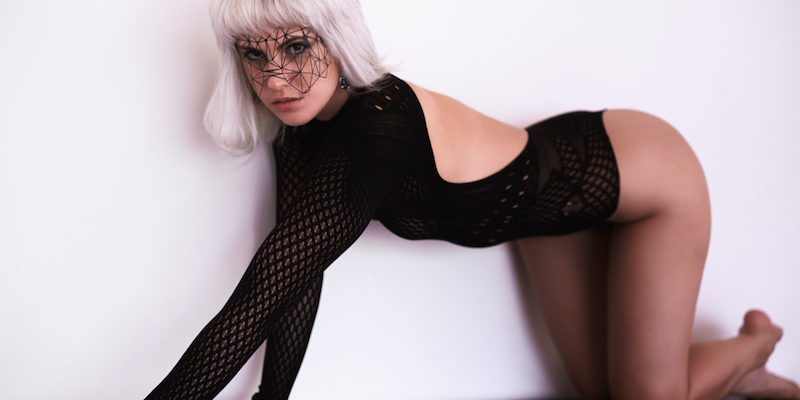 Before I even knew what blogging was, I took freelance modeling jobs helping photographers bring their visions to life.
It was exciting (and just a little dangerous.)
My friends thought I was so confident to be letting strangers photograph me in lingerie, but that couldn't be further from the truth.
Modeling spurred my evolution, forcing me to love and accept myself as a woman— one snap of the shutter at a time.
While I don't shoot much lingerie these days, I stripped down to my skivvies again to share Unbound: a female-founded NYC tech start-up with a kinky side.
(Scroll down to read more)
– Photos by  Kevin Weinert –
unlovely
I didn't consider myself fashionable or feminine growing up.
Other kids called me 'goth' for wearing a lot of black, boots, mesh, and other assorted Hot Topic products.
I wasn't trying to be anything, I was just dressing the way that I felt most comfortable.
Fashion was 'girly,' and I wasn't girly— I was 'just goth.'
The desire to feel beautiful for once in my life drove me to start modeling later on.
I really found myself in front of the camera, it was a place where I had no fear and few inhibitions.
I could see my face and body for what it was: imperfect but potentially gorgeous in the right light.
Growing up cis female in America is a constant struggle between doing what is expected and doing what feels right.
As a teenage girl, you feel pressure to date lest you be accused of being a lesbian.
At the same time, you shouldn't 'give it up,' or word might get out that you are easy.
Your self-worth would erode cumulatively with each new partner.
Trying to live up to society's standards of what makes a lady, this fucked up mentality often persists into our twenties and beyond.
unscathed
I'm happy to say I came out of it all with a fairly healthy sexual identity intact.
Here I am today, romping happily around in the broad daylight wearing nothing but a mesh teddy and a laser cut adhesive mask.
I know who I am, I know what I like, and I'm not afraid to ask for it.
Not many women can say the same for themselves— that's why I think the work they are doing at Unbound to make sex light and indulgent for women is so important.
More taboo than even sex itself is the topic of masturbation, it's almost analogous to how little self-love we have.
I applaud Unbound for making the effort to diffuse the stigma around masturbation, especially for young women.
Chuck Palahniuk may have said it best in his famous novel Fight Club, "Self-improvement is masturbation."
unbound
Getting to talk about niche-interest brands and innovative companies like Unbound is one of my favorite parts of being a blogger.
I love the whole girl-power vibe (pun intended) but make no mistake:
Unbound's wide selection of lingerie and intimate accessories isn't just for the girls!
They have a treasure trove of toys and gadgets specifically geared towards the adventurous couple.
While all of Unbound's products are available for purchase, their most popular offering is the quarterly Unbound Box.
For a flat rate of $65, you get an assortment of toys, lingerie, jewelry, and accessories every 3 months delivered discretely in the mail.
Each quarter they switch up the theme, like the Delta Box that debuted in May 2016.
They're due to come out with a new box very soon, I wonder what it will be?
The surprise is half the fun!
Not to mention, you save a bunch of money with the boxes vs. buying each product separately.
unheralded
From their lingerie collection, I selected the Agent Teddy and the Kristine Mask for this editorial and I love the way the two came together for this look.
The Agent Teddy is only available in one size, so naturally I had a little anxiety about the fit.
I couldn't be more happy with it though!
The long-sleeved onesie is actually made completely out of stretchy mesh, like fishnet stockings.
It hugs my curves without creating unflattering lumps and bumps.
It's definitely see-through, but the intricate patterns make it very subtle and figure-flattering.
It's just SO pretty and I will probably even wear it out at some point with a high-waisted circle skirt and boots.
And did I mention it's only $30?
That's got to be a pricing error, you really ought to take advantage before they notice.
The Kristine Mask just looked cool on the website, straight up.
I really didn't expect it to fit my face so well, nor did I expect it to actually stay on.
But let me tell you, this is one top-quality vinyl mask: it stayed on for this entire shoot without adjustment.
It's so thin and seems fragile at first, but it's actually quite bendy and flexible.
It doesn't strap onto your head— it comes with several adhesive stickers that stick directly on your face.
It's also worth noting that I have very sensitive skin, and it didn't do any damage taking those adhesives off after an hour.
For the first time, women can enjoy a shopping experience tailored to their sexual needs rather than wading through the overwhelmingly male-dominated adult accessories industry.
All in all, I'm very impressed with the quality of their products and the safe, comfortable space the ladies (and gentlemen!) at Unbound have created.
– Photos by  Kevin Weinert –
Wearing:
---
DISCLOSURE: This post is brought to you by Unbound, but all opinions are my own. Please click here to learn more about sponsored posts.