Fashiontech Watch: 11 Wearables Blurring the Line Between Fashion & Technology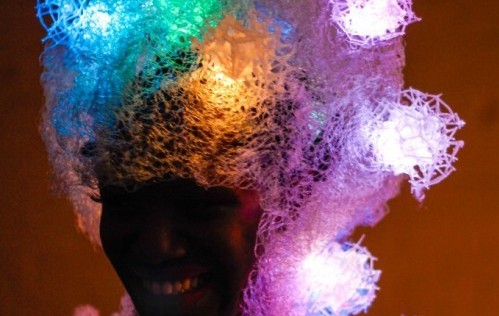 Wearable technology is becoming all the rage as it gets increasingly more affordable.
Consider the way our lives will change as we take the interconnected world we've created online and make it even more accessible in the tangible.
It's not science fiction, 'tech-cessories' like Google Glass and Apple's iWatch will become more and more common as transhumanism slowly evolves.
Even now, fashion designers are using the latest technology to create apparel, accessories and activewear that can do everything from charge your smartphone to read your mind.
Take a look at this list of fashion brands that are embracing technology (or are they technology brands embracing fashion?)
1) Accessorize the Air
In the future, our own personal air purifier may defend us from all that nasty air outside. (So hopefully we can save money on bottled air.)
The OZ-1 "necklace" is integrated with the technology of an ozone generator and HEPA filter, which perform as an air purifier.
It was created by Wei Kiat Law, a finalist in the 2013 Electrolux Design Lab Competition.
This device also functions as a solution to the problem of second-hand smoke.
It is able to trap the smell of tar and chemicals produced from burning cigarettes.
Furthermore, with a built-in atomiser, fragrance essence is converted into fine mist.
When the device is activated, it will auto dispense fragrant air from the device.
Pretty legit, right?
2) Always Charged
Charging cables may be a thing of the past sooner than you think.
New, flexible solar panels are making it possible for designers to create clothing that is as functional as it is fashionable and the same goes for stylish accessories that double as tech equipment.
Wearable Solar is a start-up that's empowering it's apparel with energy from the sun.
Using solar technology to make lightweight wired garments, the shirt produces around 1W of electricity in bright sunlight— enough to charge a typical phone in a few hours.
It can charge a variety of devices and electricity can also be stored for later use in the shirt's battery pack, which is seamlessly hidden in the front pocket.
And then there's New York-based Voltaic Systems, which offers an assortment of functional bags that can charge a variety of devices.
3) Wearable Hologram
Wearables that cleanse the environment are pretty cool, but here's something that fashion fiends can really get excited about.
The Rainbow Winters clothing line is making garments that actually respond to changes in their environment. Take the Petal Dress…
And they have at least 10 other tech-fashion projects in the works besides this one.
Some, like the Petal Dress, respond to changes in the lighting, some are affected by water, and others respond to sound!
4) What Are You Looking At?
If you thought the color-changing Petal Dress was cool, hold on to your seat.
Using eye-tracking technology, fashion designer Ying Gao has created a series of dresses that respond with movement when someone is looking at them.
The garment can actually detect when it is being looked at, and responds by activating tiny motors which move parts of it in swirling patterns.
As if that's not enough, this dress is covered in photo-luminescent and glow-in-the-dark threads for added visual intrigue.
5) Trackable Treasures
Because things can get lost pretty easily in a walk-in closet.
First-world problems, right?
All jokes aside, why wouldn't you want to keep track of your favorite garments, items, and trinkets?
This goes beyond wearables; keep tabs on your wallet and your car keys, you never know when that will come in handy.
In a demo at the front of Fashion Week house, Levine showed how the TrackR app will make garments "ring" when activated at the click of a button.
And if the lost item isn't nearby, the app will locate it in Google Maps.
The super-thin microchip can be sewn into compartments in gloves, coats, and hats.
6) The Sounds of Fashion
The marriage between technology and high-end accessory design is by far the most feasible fashion-tech trend.
Rebecca Minkoff has made four ultra-sophisticated clutches that encase speakers for Stellé Audio Couture.
I particularly like this Metallic Purple version.
*Adds to wishlist*
7) Socks That Don't Suck
The software start-up Heapsylon has created smart sock called Sensoria that will change the way we exercise.
The sock is paired with an anklet to automatically detect the type and level of activity based on pressure signals coming from the foot of the wearer, who can then access this data from a mobile app.
More than just a pedometer, it can track a runner's regular form and send an alert if he or she is making an injurious movement.
As an amateur runner, I can see this being particularly useful.
8) Close to the Heart
And if smart socks aren't your cup of tea, intelligent sports bras and athletic shirts can also track users' performance.
This NuMetrix sports bra, love-child of Textronics and Adidas, is made of "smart fabric" technology that incorporates special sensing fiber electrodes knit directly into the garment.
The fabric moves with the wearer while sensors, which are soft enough to not be felt on the skin, monitor your heart rate with great accuracy and send the data to a transmitter that snaps into the garment (sold separately.)
9) LED Chic
Up and coming luxury fashion label Moon Berlin focuses on using technology to enhance the look of its designs, like this dazzling cocktail dress:
Soft-circuit LEDs are laced throughout the garments and connected to an electrical circuit that is integrated into fabrics, and the product is shipped with a rechargable battery and charger.
This just screams New Years Eve party dress!
10) Design & Print Your Own Clothes
3D printers are becoming more mainstream and available for personal use, and as such we can expect to enjoy more personalization of our clothes and accessories.
Take it from this fashion student, who took it upon herself to 3D print her entire graduate collection at home.
Even more interesting however, with the advent of 3D printing, we can expect a shift in haute couture as materials change and boundaries are pushed.
3D printing allows for gravity-defying designs that just can't be done with traditional clothing manufacturing methods like sewing and embroidery.
11) What's On Your Mind?
Lastly and possibly coolest of all, the NEUROTiQ headdress by SENSOREE exhibits a rainbow of colors in response to the wearers brainwaves.
This little number debuted at New York Fashion Week in 2014, in all it's colorful 3D-printed EEG brain sensing splendor.
Supposedly, creators spent 76 hours printing it and 61 hours knitting the piece!
And there you have it, an incomplete semi-shoppable gift guide for the fashion-techie in your life.